FRep can record and replay the operation on Android, for automatic or easier operation.  Once you record your (finger) operation, you can play it by one push.
Features

- Record/Replay any finger operation on Android
Except for Power button, the operations on touchscreen, volume, keyboard, etc. can be recorded with the interval.  The recording and playing of the record starts by one button push.  By overlapping the operation, the playing will be interrupted or cooperated (selectable).
- Easy operation by tiny 2-button floationg console
Translucent floating console has only upper [Choose records] and lower [Start] buttons.  By dragging the lower button, you can move the console immediately.  The size or transparency of console can be adjusted.
- Recognize current app
FRep shows playable records for current app.  In recording, the app info also registered.  You can choose show "Always", "within recorded App.(package)", "within recorded class".  If the record is wanted to be hidden, you can set the record as another page's member.
Initial Setup
To send operation singal to Android, FRep uses native binary and input permission.  If your Android is rooted, you can skip this section by permitting su on first startup.  Or, for some device which naturally have the permission, you do not need any setup procedure.  Otherwise, please setup by the following tool for initialize and re-setup after reboot.
Startup
Tap the FRep notification to show/hide console, record/replay from the button on console.
- Service Running/(Not running)
After initial setup, pushing Start/Stop Service will switch the running state.  FRep is only available with Service Running, which show the FRep icon at notification bar.
- Manage Traces
To configure, edit or delete records (see later section).
- Device List
To confirm/reload the recognized input devices.  Please reload when the connected (Bluetooth/USB) devices cannot recorded.
- Options
To adjust console display and other default settings.
- Restrict App
To designate apps where FRep is disabled, for safety and/or avoiding automatic operation.  FRep self, Phone and Google Play apps are always restricted and not shown in the list.
- RECORD SETTINGS
Recording will be automatically finished after the capacity (10 minutes or 1MB) limit, or when "Till Gap" mode is selected and desinated seconds of Input Gap detected. In any mode, Power button push or Screen OFF finishes recording immediately.
NOTE: To cancel recording, tap the FRep notification from notification bar.
- TIPS
Some tips will be shown.  To see next tip, just tap the text.

Manage Traces
Display/Replay settings, reordering the listed priority and deletion of records.
- Left-side labeled button
The labeled button same as the upper one on console.  Pushing it will show the Display Settings dialog, which can relabel and choose app range to show.  The reversed color gradation means the record is set as another page, which can be switch by the Move to Another Page menu.
- Second left playing triangle
The playing button same as the lower one on console.  Pushing it will show Play Settings (actually no title) dialog, which can set initial delay, repeat time and app range to play.
- Third app icon
Clicking the app icon will show the screenshot at recording start.
- Abstract
The total playing seconds, showing range and app name at recording start are shown.  To reorder the record, long-tap here and drag upper/lower row.
- Right-side checkbox
To Delete or Move to Another Pange from menu key, check and select menu.
- [+] Create Sequence (beta)
Create new editable record consisting of checked records.  Long-time records can be edited by adding other records/control and reordering (by long-tap & drag).  In future, more controls will be implemented for programmed play.
NOTE: If the sequence stops unexpectedly, check the Play Settings below, which may cause the sensitivity for App change / Orientation change.
[Display Settings]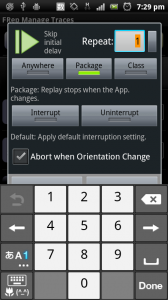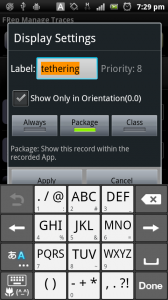 Label: Name in console
Priority: Order in console (larger is prior)
(Display): App range to show this record
[Play Settings]
Play icon: Switch to play with initial wait or skip
Repeat: To repeat the same record in one playing, designate 2 or larger
(Play range): App range to continue playing
(Interruption): When operation is overlapped, abort playing (Interrupt), ignore (Uninterrupt) or use default setting in Option
Security and Recorded Data
Both of Android app and native binary (which work as local server with permission) of FRep do not access internet.  The recorded data are raw data from the hardware devices, so they have no compatibility with other device.
Do not record operation including personal data or password.  As described below, we do not compensate for any damage by this application, derived data or caused situation.
DISCLAIMER
(same as distribution page in Google Play)
THIS SOFTWARE AND THE ACCOMPANYING FILES ARE DISTRIBUTED and SOLD "AS IS" AND WITHOUT WARRANTIES AS TO PERFORMANCE OR MERCHANTABILITY OR ANY OTHER WARRANTIES WHETHER EXPRESSED OR IMPLIED. LICENSEE USES THE SOFTWARE AT HIS/HER OWN RISK. NO LIABILITY FOR CONSEQUENTIAL DAMAGES.
Requirements
Android 2.3.3 or later (confirmed on 2.3.3, 4.0.4, 4.2.2)
CPU: ARM processor (not available on x86 CPU)
If you want the special version for your device(s), please consult us.
Troubleshooting
- The script (win.bat/mac.sh/linux.sh) in initial setup tool stops
If the device and PC/Mac connected with cable for only recharging -> Connect with cable bundled with your device (or cable capable of data transfer).
If SD card is occupied by PC/Mac -> Change the connection mode by tapping the notification on Android.
If never launched FRep on Android -> Once launch FRep on Android, to write binary for initial setup.
For first connection, Android 4.2.2 needs permitting connection from your PC/Mac.  See your android device and permit that.
- The operation on Android locked
Please be careful to interrupt touch operation, which occasionally lock the operation on Android (because Android did not receive Finger-up signal).  If your operation is locked after stop, do multi-touch with the same or more fingers for release the lock.
- My Rooted Device need setup?
Check 2 points for self-startup by rooted device. 1: Confirm your root management app do not inhibit FRep. 2: In FRep MAIN MENU, push & open menu key to select "Reset Rooted Flag", which will attempt to switch the FRep setup mode.
- How to delete the binary and related files?
Uninstallation will erase all binary and related files. See also the following abour strserv process.
- Strserv process remains after uninstallation
Since strserv starts with shell (for debug) authority, it remains after all files removed (even if strserv itself deleted). To terminate it, simply reboot Android or kill the process from adb commands of "adb shell ps strserv" to check PID# and "adb shell kill [PID#]".