SimpleTouchPad
For foldable devices, try Screen Size option.
Operate with your thumb, holding your device in one hand.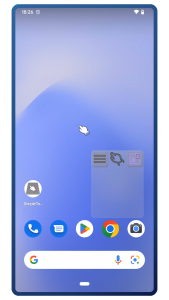 SimpleTouchPad is a simple touchpad, floating app to operate on a large-screen with slight finger movement.
Touch anywhere on the screen with a short operation.
Minimize when the pad is in the way / show the pad only when needed.
Pinch operation by single finger.
Record and replay for frequent operations.
*If you want to record / replay your touches, try our

FRep2 instead.

[Features unlocked via in-app purchase]
Additional Cursor / Pad appearance.
Automatic display switching according to current app.
Customizable flick menu, launch app / shortcut, move to recent app.
Expands the record stock to 6.
---
Notice
This app uses Accessibility Service (ACCESSIBILITY_SERVICE) to touch operations, to show the cursor or preview of touches.
Only when using functions related to app history / current app, this app requires Usage access permission.
DISCLAIMER
THIS SOFTWARE AND THE ACCOMPANYING FILES ARE DISTRIBUTED and SOLD "AS IS" AND WITHOUT WARRANTIES AS TO PERFORMANCE OR MERCHANTABILITY OR ANY OTHER WARRANTIES WHETHER EXPRESSED OR IMPLIED. LICENSEE USES THE SOFTWARE AT HIS/HER OWN RISK. NO LIABILITY FOR CONSEQUENTIAL DAMAGES.